Resources
CRID Format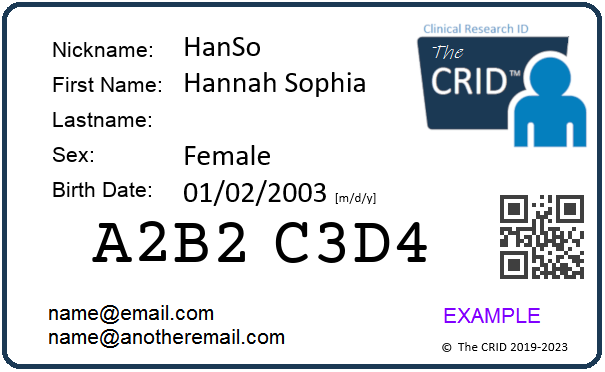 The CRID identifier is 8 characters long and is composed of alphanumeric characters (letters and numbers). It does not contain any spaces or any special characters.
To avoid confusion, it does not use the numbers 1 or 0, or the letters I, O or L.
This allows for 852,891,037,441 unique identifiers.
Data Encryption & Privacy

All personal data in the database is encrypted using the Advanced Encryption Standard (AES-128). It's also encrypted at-rest and in-transit. The sole purpose of CRID is to "promote data sharing and eliminate data silos". We will never share or sell your information. We don't use 3rd party website tracking cookies, like Google Analytics. The CRID system is installed on secure Amazon AWS servers located in Ireland (EU).
Validate a CRID
You can validate a CRID identifier (i.e. check that it exists!) by clicking HERE.
RESTful API

CRID provides an API for use by authorized research organizations. This API enables researchers to interact with CRID programatically and embed CRID functionality in their applicatiions. Contact us for API code examples in Curl, PHP, JavaScript, Java and Python.
API Endpoints include:
• Verify a CRID identifier
• Get Study Information
• Get Token Information
• More to be added....
You will need to contact us in order to be granted access to the CRID API. Your research study must be approved by a recognized IRB.
Training & Webinars