Resources
CRID Patient Information Sheet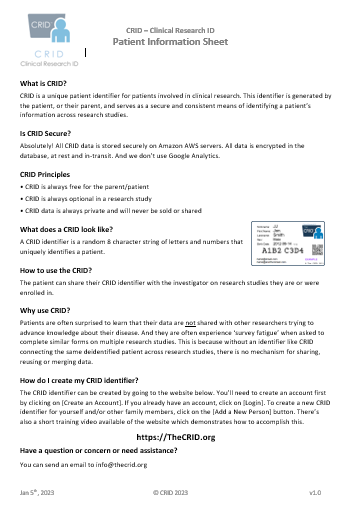 This is a MS Word template of the "CRID - Patient Information Sheet". You can customize and share this with your patient community.
Click here to download the document.
Supporters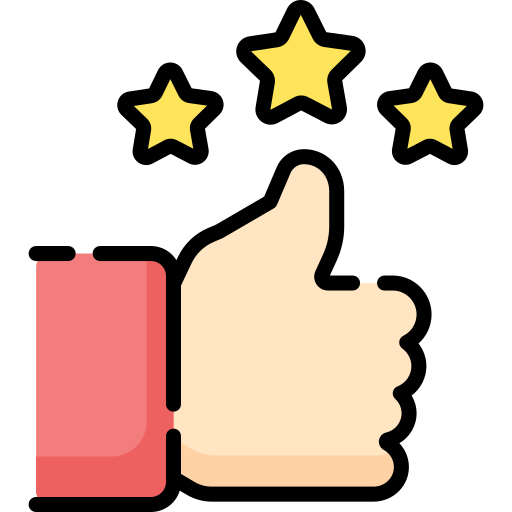 A number of parent-led disease organizations are showing their support for using CRID unique patient IDs in rare disease research. These organizations recognize the importance of having a system for identifying patients with rare diseases across research studies, which can facilitate data sharing, collaboration, and ultimately, accelerate the development of effective treatments. Click HERE to view these..
CRID Format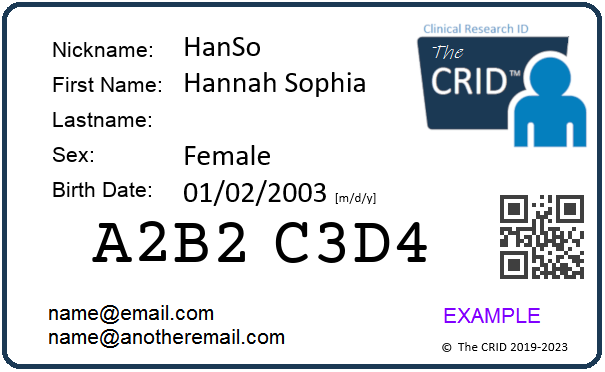 The CRID identifier is 8 characters long and is composed of alphanumeric characters (letters and numbers). It does not contain any spaces or any special characters.
To avoid confusion, it does not use the numbers 1 or 0, or the letters I, O or L.
This allows for 852,891,037,441 unique identifiers.
Data Encryption & Privacy

All personal data in the database is encrypted using the Advanced Encryption Standard (AES-128). It's also encrypted at-rest and in-transit. The sole purpose of CRID is to "promote data sharing and eliminate data silos". We will never share or sell your information. We don't use 3rd party website tracking cookies, like Google Analytics. The CRID system is installed on secure Amazon AWS servers located in Ireland (EU).
Validate a CRID
You can validate a CRID identifier (i.e. check that it exists!) by clicking HERE.
RESTful API

CRID provides an API for use by authorized research organizations. This API enables researchers to interact with CRID programatically and embed CRID functionality in their applicatiions. Contact us for API code examples in Curl, PHP, JavaScript, Java and Python.
API Endpoints include:
• Verify a CRID identifier
• Get Study Information
• Get Token Information
• More to be added....
You will need to contact us in order to be granted access to the CRID API. Your research study must be approved by a recognized IRB.
Training & Webinars
Global CRID Network
The CRID servers are currently located in 'CRID Central' (Ireland) and these conform to GDPR regulations. In 2023-25, we plan to launch instances of CRID in individual countries, including the USA, Canada, Australia and India. Each CRID node will be aware of all CRID identifiers worldwide without the PHI being exposed. This will further enhance CRID as a global solution whilst adhering to any local data regulations.

We envisage that an approved CRID organization in each country will oversee, govern and fund the CRID node instance locally, and will be a member of the International CRID Consortium (yet to be established).